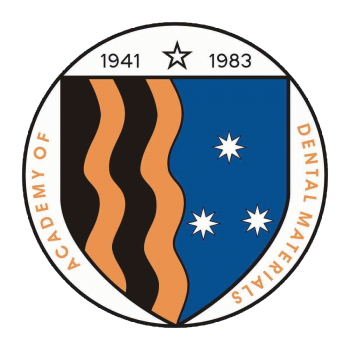 ACADEMY OF DENTAL MATERIALS

The Academy of Dental Materials was founded in 1941 as a consortium of dental professionals

who were interested in the development and application of new materials to dental care.
We invite you to become member! Click "Join or Renew" below for more information, including fees and how to sign up.
MEMBERSHIP
RESEARCH AWARD NOTICE
ADM Members!   Applications are now being accepted for the Rafael L. Bowen Research Award.
All applications must be received by June 30, 2022
Read more
---
SAVE THE DATE – 2023 ADM Meeting in San Diego, California
October 3-7, 2023        Details to follow soon!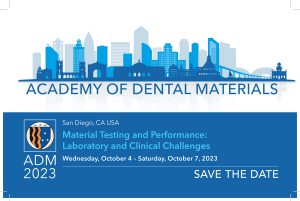 ---
---
ADM Members!   Post your employment opportunities on the ADM website/Employment!
Contact admin@academydentalmaterials.org for details.
July 15, 2022 – Materials Research Specialist – College of Dental Medicine, Midwestern University – Glendale Arizona Campus
The Materials Research Specialist will serve as the interface for external equipment and supplies vendors; as such, this position is responsible for (read more)
---
SDMS-CSA & ADM Joint Hybrid Meeting May 9-10, 2021
See Highlights of Day 1, May 9, SDMS-CSA ADM Meeting
See Highlights of Day 2, May 10, SDMS-CSA ADM Meeting
---
Easy Online Access for Members
At the bottom of any of your member pages there is a thumbnail for DENTAL MATERIALS; click on this icon and you will be taken directly to DENTAL MATERIALS.
BOOK CLUB: Elsevier offers a 10% discount off books purchased on the Elsevierhealth. Find out more here. Report from Editorial Office.
Academy of Dental Materials
OUR OBJECTIVES
To provide a forum for the exchange of information on all aspects of dental materials;
To enhance communication between industry, researchers and practicing dentists;
To encourage dental materials research and its applications;
And to promote dental materials through its activities.