ACADEMY OF DENTAL MATERIALS

Academy members in good standing may apply for Fellowship in the Academy. Applications must include a current c.v. and two letters of recommendation from current Fellows of the Academy. The criteria to apply for Fellowship are:
Achievement of advanced degrees: at least a master's degree and preferably a Ph.D., Odont Dr., or equivalent degree;
Publication of at least ten peer-reviewed, scientific articles in refereed journals of which the candidate should be first author on one-half of the articles;
At least five years of leadership through research, training, service, and/or education beyond formal education; and
Normally at least five years membership in the Academy.
An engraved plaque is awarded to each Fellow. A $225 fee required upon selection as a Fellow.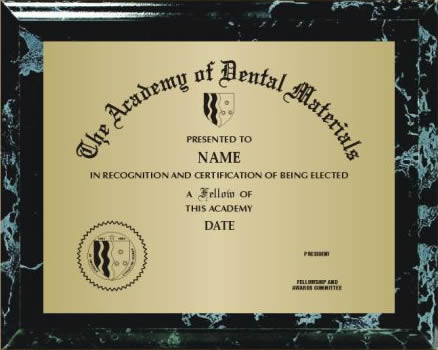 For information regarding the fellowship please contact:
Prof. Milena Cadenaro
IRCCS Burlo Garofolo
Via dell'Istria 65/1
34137 Trieste, Italy
Email: mcadenaro@units.it
Want to become member? Click "Join or Renew" below for more information, including fees and how to sign up.
MEMBERSHIP