ACADEMY OF DENTAL MATERIALS

Each year, the members of the Academy of Dental Materials, at various Dental Schools around the world, present awards to the most outstanding students or student researchers in the field of Dental Materials.
The award consists of an engraved plaque.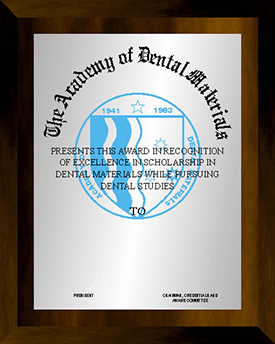 The award plaque may be requested at any time during the year. If possible, please give six weeks notice in advance of your Award Ceremony so that the plaque may be ordered and shipped in plenty of time. Please note that according to the ADM bylaws only ADM Members can request the Student Awards. Schools should verify current ADM membership of the sponsor in advance and copy the sponsor on the e-mail request or have the sponsor e-mail the request.  Limited to one Award per University per year.
ADM Members – Please send a completed University Student Award application to the ADM Administration office at admin@academydentalmaterials.org   for consideration. Download Application
For more information, contact the ADM Administration Office at 858-272-1018 or email at admin@academydentalmaterials.org
Photographs of the Award Ceremony should be sent to the Chair of the Fellowship and Awards Committee.
Want to become member? Click "Join or Renew" below for more information, including fees and how to sign up.
MEMBERSHIP